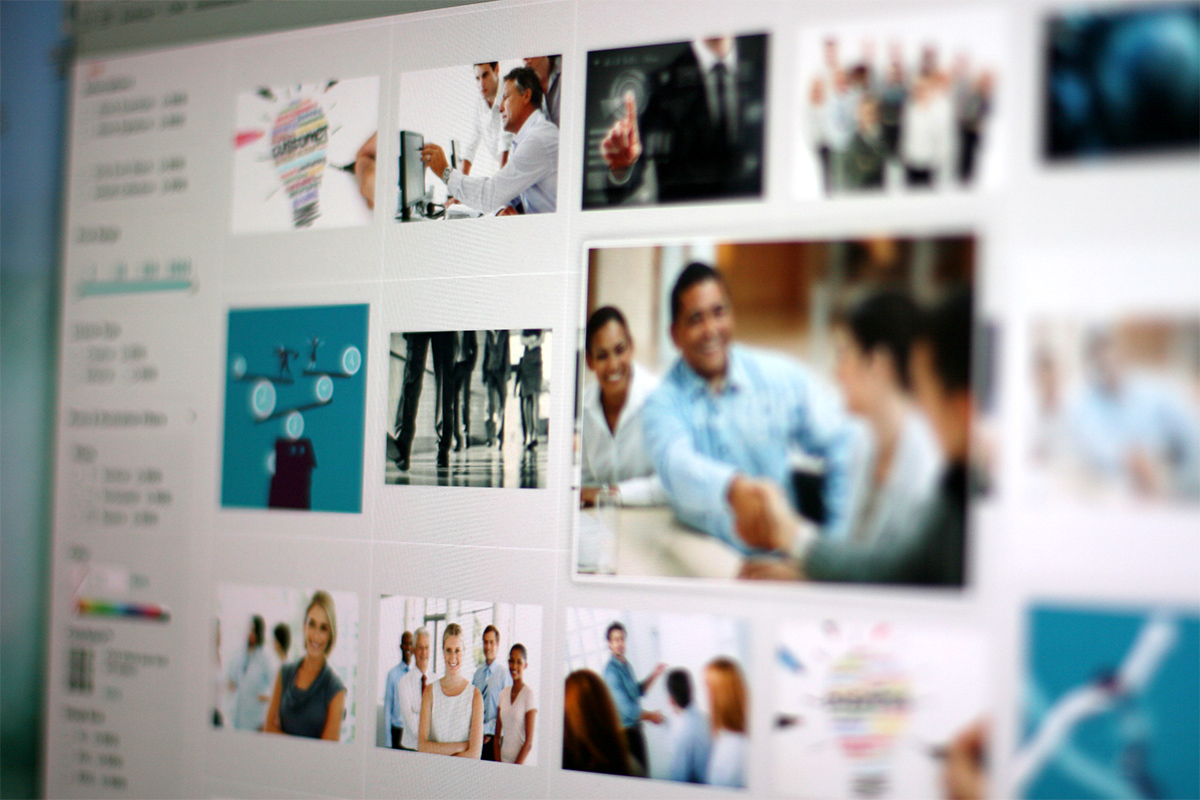 Not So Great Stock Photography
Your website needs creative photography, iconography and illustrations to engage your audience and provide a good user experience.  So where does a designer or small business owner acquire the imagery and graphics for their website or other marketing materials?  Very often they turn to one of the many stock photography sites on the web and download an image of two people in business suits with cheese-ball smiles or the quintessential grassy field.
A Brief History of Stock
The stock image industry was ruled by a few big players less than 20 years ago and images were expensive.  Royalties and licensing were involved, the bigger your audience, the more you paid for an image.  In the late 90's and early 2000's the digital photography revolution changed the playing field – the price of amateur photography equipment came way down and you could start to get pretty decent images with point and shoot cameras.  Stock photography became crowd sourced.  Anyone could submit their vacation photos from Mexico or grassy field images to be used as stock.  The low expense and ease of entry into photography meant nearly anyone could become a "stock photographer."  Websites emerged selling royalty free images for as little as $.25 per image.
Were the photos as good as the images obtained from Getty or Corbis?  Ha! By no means were they even in the same category.  But the images from the big stock houses weren't thousands or tens of thousands of dollars better either, especially for people looking for images to use on the web. Eventually the pendulum began to swing the other way, prices on the royalty free websites increased steadily – a well composed stock photo costs anywhere from $25 to $75, give or take.  Six years after opening for business one of the most popular royalty free sites, istockphoto, was purchased by Getty for $50,000,000.  The big boys are running the show again and while images are still relatively inexpensive, the budget for stock photos can start around $700 to create a website for a small business.
So How Can You Get Better Stock Photography?
Unfortunately, I'm guilty of using cliché stock photography all the time.  I usually go this route because I've got an idea of the shot I'm looking for and it's easy enough to open my browser and start looking at images that will fit the bill.  Very often this exercise turns into several hours of searching – after 20 minutes on a stock photo site, all the images begin to blend into one another.  Here are a few other alternate routes to the stock-photo-site wormhole:
1. Shoot your own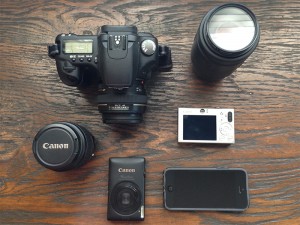 Probably the most obvious and, maybe, one of the best routes to go.  Got an idea for a photograph that's going to look great on your site?  Why not grab your camera, get out of the office and go shoot some photos.  The more pictures you take the better you'll be at composing photographs and getting shots to supplement your site or marketing materials. Almost any camera will do the job.  Your smart phone is capable of capturing good shots and there are numerous apps that can help you edit those photos and apply filters to create engaging images.  Point and shoot cameras are pushing 20 megapixels and many come with decent lenses and some have options for removable lenses.  Digital SLR cameras are now available for less than $400 and investing $100 in a 50mm portrait lens will allow you to get really great shots with alluring depth of field and bokeh.
2. Hire an actual photographer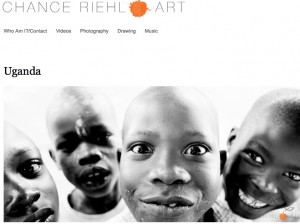 Not confident in your ability to take a decent photo?  If you've got budget for stock photos, why not take that money and hire an actual photographer?  Who doesn't know someone who's a photographer or aspiring photographer?  If you don't know a photographer, I guarantee, you can easily find a friend of a friend on social media that can be hired out for a quick shoot. A few weeks ago I spent 90 minutes or better putting together light boxes for a client to review.  I didn't find anything that was going to wow the client and I thought "Why not spend this money with someone I know and get images the client is going to love?"  I went to my friend Chance Riehl's portfolio site and gave him a call to inquire about hiring him for the project.
3. Swipe through Flickr
There are literally millions of great photos on Flickr.  You can go to the advanced search options and check the box to only search within Creative Commons-licensed images and check the box to find content to use commercially.  Then search for an image that fits your criteria and you'll get images that can be purchased.  What if you find an awesome shot that's not Creative Commons?  You can also contact the photographer and ask them for use of the image.  If they're not a professional photographer, you may be able to negotiate use of the image for a small fee or they may just ask for a photo credit. I found a "vacation photo" of a mountain biker on Flickr that was exactly what I needed for a client who runs a tour company.  I contacted the photographer and asked if I could use the image on the website and they were so stoked someone liked their photo they let me use it for free.  The image was taken with a Canon point and shoot camera and I used it as the hero shot on the website.
4. The stock less traveled
Not all stock photography websites are filled with boring, contrived images.  There are many smaller sites out there that don't have huge numbers of images, instead they feature high quality, captivating photography that will add an elegant aesthetic to your project.  When using images from these sites, you may have to get more creative in massaging your content to fit with the photograph rather than looking for a photo that exactly matches your content.  Here are a few excellent sites:
http://deathtothestockphoto.com
http://www.gratisography.com
http://unsplash.com
5. Command-Shift-3 or Print Screen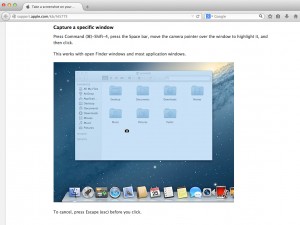 While this method will have limited application, if your subject matter has anything to do with technology, blogging, the internet or computers in general, screenshots can be a great way to create images for your material.  With some basic image editing software you can create focus on a certain portion of the screen or add some perspective to the image to make it more engaging.  Don't forget about your mobile devices as they are capable of taking screenshots as well.
Conclusion
Next time you need an image to augment your website content or marketing materials, don't just go to the same stock photography site everyone else is using.  Get away from your desk and go shoot some photos of your own or use your budget to hire a photographer.  Get creative with other sources for stock photography, there's a ton of exceptional and more obscure sources out there that can produce awesome imagery. Know a great place to acquire quality photography?  Share your ideas in the comments.